What LBA fans are saying
---
dear mike,
what a pedal! i`m playing for a couple hours now, testing it with all different kind of basses: the nuvision sounds amazing with all of them! even without touching the eq, it`s such a wonderfull warm bass tone out-of-the-box! especially with passive basses it offers a wide range of gain settings. from clean to overdrive and everything in between. higher output / active basses can push this pedal really well, without bringing it to its knees. dynamics and headroom are really excellent! personally i like it the most, when only harder played notes get a slight tube compression with a pinch of dirt on top, while softer notes stay clean. i`ve had no hassle dialing in this sweetspot for every individual instrument within seconds. the eq is pretty flexible as well: from clean funk tones to wonderfull creamy fingerstyle motown to grinding plectrum rock to almost fretless like tuba sounds and beyond, the nuvision has it all. even when dialing in extreme settings, in one way or another the result is always musically and usable. from a bassplayers point of view the eq is much more intuitive, than the more commonly used fender tonestack . especially the ability to cut the frequencys is a very usable feature for bassplayers! something the fender tonestack, despite its mid controll, sadly can`t do is boosting mids. with the nuvisions tonestack you can slighlty boost the mids, when simultaniuously turning the bass and treble knobs counter clockwise. very nice! i`m also very impressed by the usability of the lowcut switch. on paper it first seemed a bit to high for bass, but once engaged it tightens the sound par excellence. especially when, in addition to the engaged lowcut, boosting the bass knob a bit. it makes the bass sit really good in the mix. the lowcut is also great for dry and focused funk sounds. although it feels a bit odd pushing the switch upwards instead of downwards to engage the "cut". last but not least the nuvision does a great job breathing life into those modern sterile digiamps and sounds fantastic into my apogee duet. it`s definitely a keeper!
cheers
laurin
PS: i`ve attached a picture of the nuvision along with its older brother opti-mu prime.
---
October 2017 (Flux Bender and Trinity Channel Strips)

Mike,
I hope all is well with you. Thought I would give you a shout out and let you know how much Jeff, Tennis and myself think the EQ is absolutely fantastic! A great addition to the other great equipment we have but truly a stand out piece. Also, we love the preamps...they have a distinctive character that sounds amazing on whatever we throw at them. The eq section is easy to use and dial in to taste. Anyone who loves ribbons would be very satisfied, they have plenty of power to drive even the weakest microphones. Keep up the great work and many thanks for your efforts and professionalism. Please keep us informed about any new projects.
Sincerely,
Joe
(Bamboo Room Recording Studio)
Kentucky, USA
---
October 2017 (Custom EQ: The Grundy Q) - Written by Dave Grundy
---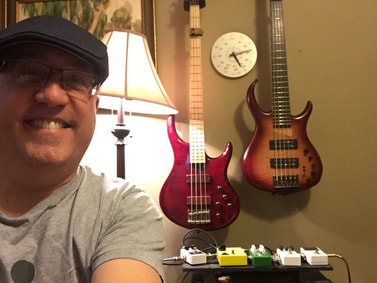 October 2017 (Thunder Knob)
"Got that wonderful little box. Giddy, I opened the box, pulled out the new Lightning Boy, and hastily put it in my pedal line, (without thought, I might add). This thing cranks!!! I was leery to plug my 5 string in. But I did…….the ground shook, and I actually felt wave pressure from the 15″ driver. Really cool accentuating the Corona Chorus pedal. The MXR compressor in front, really gives a nice weird distortion. Here is my bass pedal board, plugged into a GK MB 115 Combo. TC Polyttune-MXR Bass Comp-TC Corona-Thunder Knob-EHX 360 looper. Have a Cry Baby wah, not pictured. Mostly do worship and smooth jazz. Currently studying Latin bass with my instructor.
Again, I slammed the Thunder Knob in line the quickest way. Not sure where to put in the pedal line. Guess I'll have to experiment. Any suggestions?
Thank You Lightning Boy Audio for the Thunder Knob!"
-Dave
(originally published by EffectsBay)
---
​
"I Received the pedal preamp system... hooked it up w compressor pedal (OP-2 comp) dialed in some clean headroom from amp and let it rip :) The quality and build are tremendous... top shelf of the boutique pedals... most importantly thought are the great tones!! Loved it... can't wait for the Flux Bender to arrive!"
​
-Joe Griffen (Recording Engineer/Owner at Bamboo Room Studio in Kentucky)
---
March 2017 ​(The Lightning Boy II, CH2, & PSU)
"Finally got to plug it in today, incredible! Can really use all the gain available without becoming hissy. Can add some nice 'hair' to a signal and is really responsive to dynamics, pick lightly, very clean, dig in, and it barks. Absolutely
incredible mate, you've nailed this pedal and the modules. Can't wait to see what you come up with next!!!"
-Alex Alderson
Victoria, Australia
---
February 2017 - a letter from Kern Ramsdell of Home Recording Weekly. (Kern sold his original Lightning Boy pedal and regretted doing so until the Lightning Boy II came out).
​Mike,
Wow! You have improved upon a perfect pedal! The quality and feature set only continue to grow, well done!
Please find the enclosed 5 year warranty card, and I'm sure I will never need to use it though.
Thank you so much for reaching out to me and helping me find "that tone"
I love so much
! I really thought I had lost my "LBA overdrive sound" forever. There is something so pleasing about the "clink" I get with your pedals. All is well again.
Thanks again!
Kern Ramsdell
---
​"
Mike - I received your compressor today - Wowzers! This thing is fantastic! I placed a pre-order for your overdrive too. Truly, Op 2 Comp is giving me access to sounds and a quality of tone like never before. You're a wizard - I just can't say enough about this thing. I will certainly be singing your praises at my favorite pro shop here in town. I just can't imagine, once experienced, that others wouldn't want one of these compressors. I can't stop playing it; it is truly a fine musical instrument unto itself."
-Jon Green
St. Louis, MO
---
"Its super cool. Its an optical tube compressor in a pedal. So think LA2A, like the classic URIE compressor - that's what they were going for with this. And, to get it into a pedal and get those tonal characteristics into a pedal is really, really cool, I think. Most guitar pedal compressors have a very sort of squashed obvious compressed sound. This one has that forgiving, yet really warm silky effect that an LA2A has."
-Pete Thorn (Don Henley, Chris Cornell, Melissa Etheridge, etc.)
---
​"
My Lightning Boy Audio Op-2 Comp has found a permanent home in my signal chain. My EBS Multi Comp served me very well, but I am loving the tube warmth and added harmonics of the Op-2 Comp. The compression works well. I've spent a week testing it before and after my various effects and with three basses (active and passive). For now, I have decided I like compression set about 1:00 o'clock, volume about 2:00 o'clock, Turbo on (obviously), and soft knee for finger style and hard knee with a pick. I leave it off when I use the Fairfield Barbershop, but have decided I like after the Bass Big Muff Pi (I turn the compression all the way down). See attached photo for sequence. When using my Ampeg PF-500 and cabinets, I bypass the SCR-DI. The Op-2 Comp sounds great with my amp, and the compression helps me cut through the two VanHalen wannabes in my Classic Rock cover band (they are actually really good...and loud). I only use the SCR-DI for headphone practice and occasional Church services when I go straight to the house.
Cyrus (bongomania) at Ovnilabs (
Compressor Reviews
) has written a very thorough review of this compressor (and many more). I actually purchased this compressor from him. Additionally, Mike at Lightning Boy Audio is great (
Op-2 Comp
). He responds quickly to email if you have any questions. I also added tube dampers per Mike's recommendation. These are available from LBA or other tube suppliers.
Hope to hear about more bass players using the LBA Op-2 Comp. It is definitely sweet sounding and straight up cool looking. Rock on."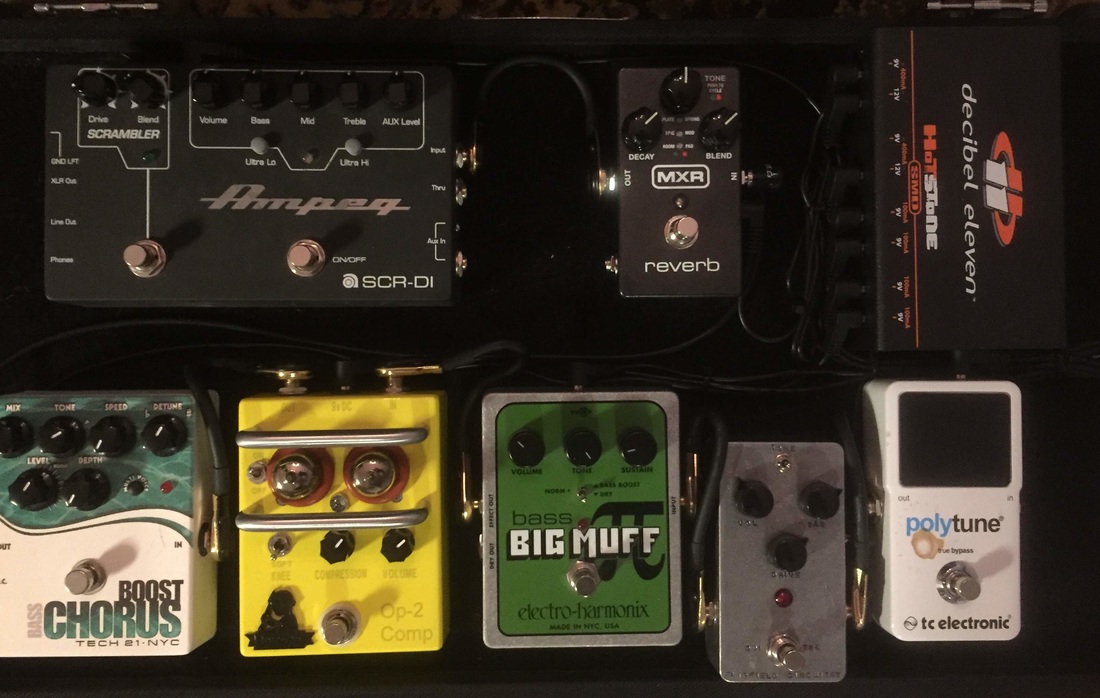 ​ -Brandon Phillips
Savannah, GA
(above quote and photo copied from post on www.talkbass.com)
---
"
The unit [Op-2 Comp] is working great, Mike..!!.. I'm luvin' how the tubes work in the signal chain - I can make the amp sound like it's on 'eleven' while still maintaining all my note articulation, & all at a tolerable volume, which is exactly what I was looking for.. A+.!!"

-Mark Hitt
Putnam Valley, NY, USA
---
​"
This would be in my top 10 pedals of 2016 without question it's a killer optical compressor!
😊👍"
"
Great pedal guys! It's really something special. Great job."
(Op-2 Comp)

-Shane Diiorio
("In the Blues"
youtube.com/intheblues
facebook.com/intheblues
)
Melbourne, Australia
---
This (Flux Bender) is one impressively fine-sounding box. It adds a nice analog blend of thickness, punch and clarity to any mix or master. Overall I would describe it as a nicely flavorful box balanced with wonderfully clean fidelity. While it is capable of adding extreme thick gobs of low end or even glass-shattering highs, the general tone of the box is direct and honest rather than over baked. The one area that got me into trouble was the low end. Its impressive! If you love a big bottom, and especially if your room is equipped with a quality subwoofer, this is one of those boxes where the low frequencies just sound massive and awesome. It's not cheap by any measure, but its asking price is actually in line with most boutique boxes of this style and ilk, and it has a sound that sets it apart from any other Pultec-style EQ I've heard.
-Paul Vnuk Jr. (Recording Magazine review)
---
Tried the LBA 1401 with Ghost Box pitted against a Groove Tubes Vipre. I was greeted with a sound very different yet very complimentary to the Vipre. The Vipre was more aggressive, punchy, up front. The 1401 was more laid back, subdued and smooth. I'm looking forward to trying it on some solo jazz guitar, I think it would excel in this application or any where warm and smooth take precedence. Microphone used was a SE RN17 recording a Martin flat top.
-Tim Wallace
---
I've compared vintage caps (paper in oil) and yours, and I think yours are better. Much more useable tone. You make a nice product. Thank you I appreciate it.
-Tim Damon
---
I THANK YOU VERY MUCH FOR EVERYTHING, MY FRIEND!!!........................ .......MOVE OVER FENDER!!!!!STEP ASIDE MARSHALL!!!!! THERE is now a NEW definition for tone.......and it is called the "GRAVITONE 30" !!!!!!! I have made a SOUND choice in ALL of my purchases from LIGHTNING BOY AUDIO!! Their pedals and other products ALL have superior quality and construction!!! TONEGOD Mike Congilosi has created another masterpiece!!!! THE TONE OF THIS AMP IS SICK!!!! ....but don't just take my word for it-check out this amp and you WILL be doing your sound a BIG favor!!!!!! .............and couple it with one of Lightning Boy Audio pedals.....especially the OLYMPUS.....and what more can one say??? the "GRAVITONE 30" definitely speaks for itself!!!!!!!!!!!!!!!!!!!!!!!!! I THANK YOU VERY MUCH, MIKE!!!!!
​sincerely, chaz proffitt -DENVER, CO.
---
After being sick for a week and then traveling a couple days with the band I work for, I was FINALLY able to open the amp up (LBA custom tube guitar amp) this past Saturday. For a straight 2 hours I just payed and played and played. It's been a while since I felt this much inspiration to just jam away and I have never been a player to just plug a guitar straight into an amp. But the amp was so responsive to the guitar's controls that it didn't need a dirt box for the grit; it was on tap and in buckets! Boy this thing kicks! Even my roommate was impressed and he is a professional sound guy with ties to Tom Petty's crew and Reflections Studio here in town.
I know better than to count you out when it comes to creativity + ingenuity! Thank you for such thorough and diligent work. It is this dedication that reinforces my original confidence in knowing that you were absolutely the right guy for this project. You've been really open-minded from the get-go and have really done a fantastic job of keeping me in the loop with updates and tech-talk. You've been awesome through this whole process and I think it's just great. I appreciate everything sir, you
*!FJI?%ing
rock!
-Benjamin Wade - Charlotte, NC USA
---
Pedal (Opti-Mu Prime) arrived today and it just replaced the Keeley compressor on my main board.
It is far, far superior to the Keeley (and I really like the Keeley). It sounds fantastic and adds a nice warmth to the tone of my guitars. Tried it with my Les Paul Jr (single P90), Les Paul Traditional, Les Paul Classic and my '78 Les Paul Deluxe, it's awesome with all of them through the '77 Marshall (2204 head, 2x12 cabinet), 4x10 Bassman and Blues Junior.
I'm using it in the chain right after the Soul Drive, I've attached a picture, it's a seriously outstanding pedal. It may be challenging the Soul Drive as my favorite.
-Nigel Houghton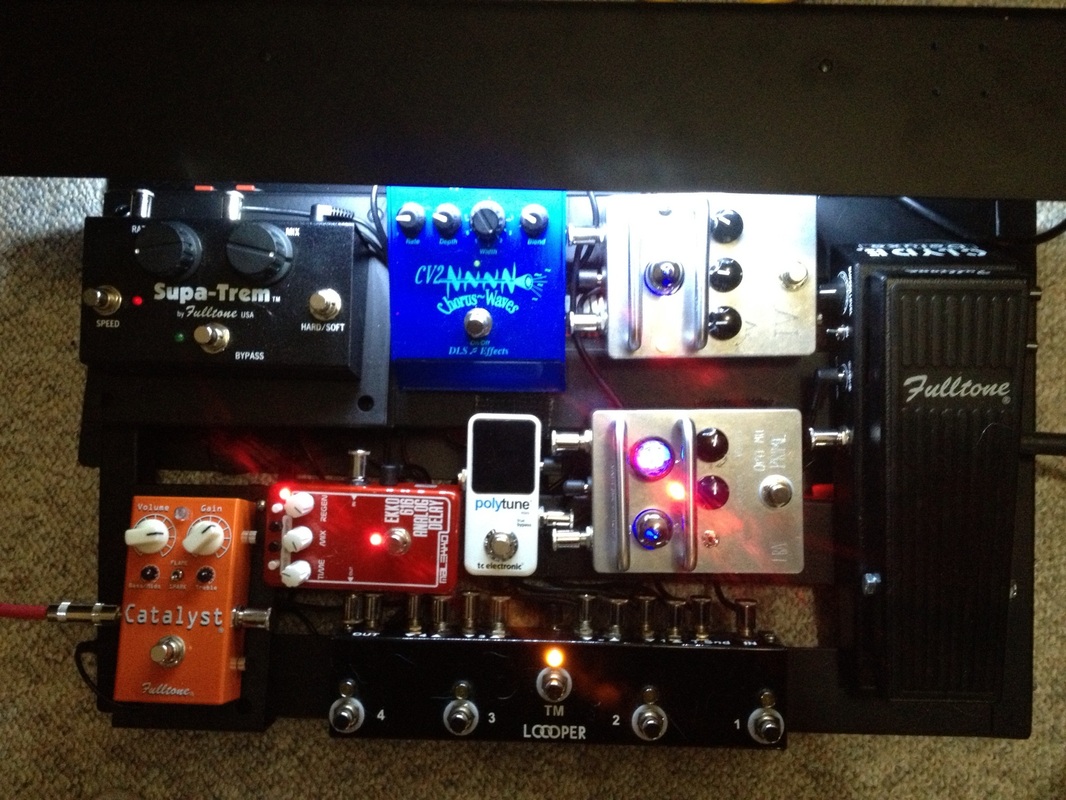 ---
I received the Opti-Mu Prime on Friday. This thing rocks! I've only played around with it for a couple hours, but so far it's made everything I've thrown at it sound better. Love it.
-Brian Chow
British Columbia, Canada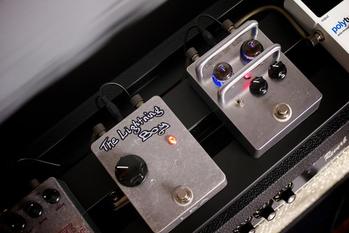 ---
Got my early edition hand painted Lightning Boy pedal yesterday and had to write to you to say THANK YOU THANK YOU THANK YOU !!!! How GREAT it sounds! What rich meaty goodness with warm ripples of tubosity! Thank you so much.
- I recommend this pedal to ANYONE using guitar OR bass
- it sounds sooo nice into my Orange Rocker 30 or bass grunging into my SWR Baby Baby Blue amp AND transforms digitally derived guitar sounds into real-world loveliness! A live or recording wonder and must-have
- I want more Lightning now!
Kind Regards,
Neil McGrath
---
---
"Hi GuysJust received my latest pedal from Lightning Boy Audio... Its called the Olympus....It is fantastic... It fills the void on my Two Rock Studio Pro 35 as it literally adds two new channels to my amp... LOVE IT...I find the Olympus to be extremely responsive to playing volume. If you turn down the volume of your guitar you will make the pedal sound cleaner. It is capable of anything from subtle breakup to insane distortion and everything in between. The EQ and presence controls allow you to shape the tone of the guitar and the breakup to suit your needs. Olympus has really given me what a tube amp would do if you were to crank it up really loud.This pedal is sooo flexible... Anyway Michael from lightning boy is amazing to work with. He kept me updated all the way and I really hope people give him a crack.....
Matt's complete post from The Gear Page is here
​
"
Matt Newman - Adelaide, South Australia
---
"I put the Soul Drive in front of my Hughes and Kettner Warp Factor. The sound is absolute killer. Would you like me to post a YouTube video? I am hesitant as I am afraid too many people will start to copy my sound!!!"
Markus Hummel - San Diego, California, USA
---
"Honestly I have some great overdrives like the Ethos, Tim, Wampler Euphoria, Marshall Bluesbreaker v1, Arc Effect Klone, Fulltone Fulldrive 2, JHS Double Barrel etc.The Soul Drive would have to be my favourite for my Two Rock Studio Pro.... I have made a mini pedal board for it Tuner>Wampler Ego Compressor>Soul Drive>Arc Effect Klone>Deluxe Memory Boy>Two Rock. Honestly it sounds like it's a part of my amp, the dynamics are incredible and it actually sounds like my amp is getting pushed into OD... Unreal...Also Aarons Arc Effect Klone makes the pedal sound even better again, it just fattens up the Soul Drive even more and is an amazing boost for solo's..Anyway guys sorry to ramble on but I feel this is a great pedal and I think this is finally the sound I am after....Hope you give it a go..."
Cheers
​
Matt Newman - Adelaide, South Australia
---
"The soul Drive makes having to transport my stacks and all the pedals I have a thing of the past,now I can grab my amp and floorboard and the Soul Drive and know that I can have every sound imaginable in a portable package.I am very happy with this pedal and I highly recommend it to anyone looking for that warm blues-rock tube amp overdriven sound and I look forward to keeping it in my stable.Kudos to Mike for throwing in the customized One Spot power supply for it."
​
Gregory Bodish - USA
---
"Hey Mike, Thought i'd drop you a quick line. We tracked some Fender Rhodes parts last week running it thru the Soul Drive. It gave it a great amped-up sound with just the perfect amount of grit we were looking for. Proving to be a highly valued piece of gear! Cheers."
​
Curtis Ruptash - Chicago, Illinois, USA
---
"Hey Mike, Got it (Soul Drive) yesterday. Build quality is excellent! Fired it up and ran my M3 thru it. My issue with the M3 has been that it's super clean mainly as I used a Motion Sound leslie. The Soul Drive does a nice job of dialing in enough overdrive to sound less like a jazz vibe and more like a soul/rock sound. So far, it seems like it'll do very nicely. Eager to run bass thru it, too Cheers."
​Curtis Ruptash - Chicago, Illinois, USA
---
"I just tried the Souldrive and it works perfectly, my first impression is that the effect is subtle but adds in really nicely to the overall sound (I guess it's the whole point!) I like the new modifications too [tone bypass]... Very well done!"
​Julien Peyre - Merindol, France
---
"The Soul Drive in front of my amp added a ton of warmth and frequency response, improving the overall tone of my rig. It will be constantly on, and part of my guitar tone for a long time. It reminded me of the pre-amp to a classic tube amp I used to own. Love the hand-wired quality and the fact that it is made in the USA."
​Doug Townsley - Culver City, California, USA
---
"For all of your audio and electronic needs...my boi Mike knows whats up. i have first hand experience with his stuff and i personally recommend him"
Evan Laedke - Eden, New York, USA
---
"Mike racked a pair of Yamaha PM1000's for me and they sound better than I had expected. He really went the extra mile to perfect the sound and operational features of the unit. Thanks to his electronics expertise and knowledge of studio gear this (DIY project that I was trying to do myself) is finally complete. The best thing is that bass guitar sounds amazing through this thing. This is probably my favorite piece of gear. He also did a tune-up on my Fender Vibro-Champ, the buzz is now gone and it sounds better than ever. I will definitely go to Mike for all of my studio repairs, he really knows what he's doing."
Chris Liberti - Buffalo, New York, USA
---


sales@lightningboyaudio.com (716) 472-6739